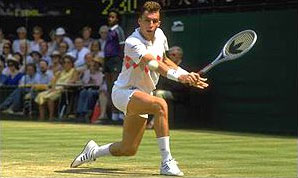 Ivan Lendl was born in Ostrava, Czechoslovakia in 1960, and became an American citizen in 1992. Lendl, one of tennis history's greatest champions has had a successful and enduring relationship with Bosworth Tennis. Lendl was the world's top ranked player for an astonishing 270 weeks, including 157 straight weeks from 1985-1988.
Lendl, working with Warren Bosworth as his chief of staff, developed several breakthroughs in racquet customization and player specific technology. Lendl was the first to change racquets in synchronization with ball changes, ensuring a consistent feel, which helped him capture 94 career singles titles.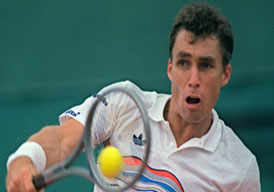 In 1980 he actually won tournaments in three consecutive weeks, on three different surfaces. He was a fixture in the finals of the ATP Tour ending championships, capturing the Masters title on five separate occasions. He relied on strength and heavy topspin from the baseline to reach 8 consecutive US Open finals (1982-89), winning three, 1985, '86, '87. Lendl also won twice at the Australian Open, 1989 and 1990, and three times at the French Open, 1984, 1986, and 1987. He also relied on Bosworth. In addition to Warren Bosworth's racquet services, Jay Bosworth served as a coach for Lendl for over five years.
During that time of the late 1980's, Lendl was one of the game's most dominant players. In 1982, he won 15 of 23 singles tournaments entered, compiling a record of 107-9, which included a 44-match streak. In 1985 Lendl captured 11 singles crowns in 17 tournament appearances, and in 1989 Lendl won 10 titles out of 17.
He finished 1985, 1986, 1987 and 1989 as the top ranked player in the world. He was one of the strongest and fittest, often times overpowering opponents with dominating yet consistent groundstrokes. He displayed a relentless all court game and has been referred to as one of the game's greatest overachievers.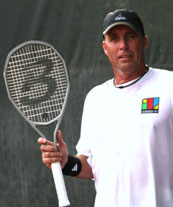 The US Open was home to one of the most remarkable achievements in Open tennis history. Lendl was a finalist from 1982-1989, an unbelievable eight consecutive years.
Ivan won dozens of awards including the ATP tours Most Improved Player in 1981 and the Player of the Year in 1985, 1986 and 1987.
He was also the driving force for the Czechoslovakian Davis Cup team, compiling a 7-0 record in singles and 3-0 in doubles, leading Czechoslovakia to its lone Davis Cup triumph in 1980.
Lendl's career was celebrated with an induction into the International Tennis Hall of Fame in 2001. In 2009, Ivan Lendl has started playing tennis again – showing that his dominating form and astonishing power remains.
In racquet testing with Bosworth Tennis for his current racquet set-up, Lendl declares his Bosworth Tour 96 as "simply the greatest racquet I've ever hit with, period."
Ivan Lendl's official website:
www.ivanlendl.net