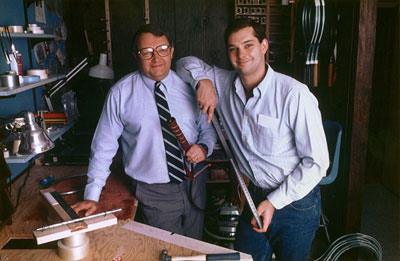 Our Story
In 1972, my Dad, Warren Bosworth began his quest to help tennis professionals achieve better performance by customizing racquets. Dad figured that there had to be a better way than simply taking what racquet manufacturers provided in limited forms. He knew that the racquets made for the masses weren't always the best for the professional player. And, vice- versa.
He began working with Ken Rosewall, the Australian legend, who was #1 in the world. Warren figured that if you were going to start somewhere, start at the top, a philosophy he has maintained for the past 35 years. Back in those days, most players played with wooden racquets. Metal, fiberglass and other materials were mostly in design and testing phases. Warren worked closely with manufacturers to design better racquets for better players. Along the way, he made discoveries. He found that professional players needed equipment that they could rely on. He also discovered that just because racquets were made to the same general specifications that didn't ensure that they were the same. More than that he found that the secret was the racquet and the racquet set-up was unique to individuals.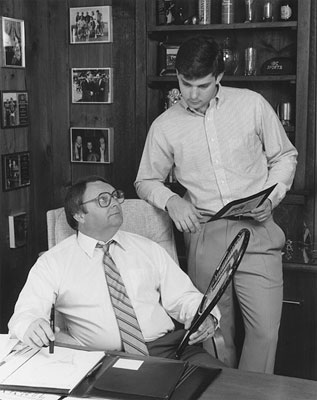 He also found that some player's benefitted from a set-up that belied their physical size, strength or playing characteristics. By watching, coaching and listening he discovered that a racquet was more than frame and strings it was an extension of a player's confidence. And by figuring out how to maximize that confidence with racquet equipment, he could in dramatic fashion, help create a better tennis player.
In 1982, I joined Bosworth Tennis working closely with the greatest players of the Open era including names like Laver, Connors, Edberg, Rafter, Sampras, Seles, Hingis and Agassi. In addition, we pioneered the way top professionals worked with equipment with our work with world's number one player, Ivan Lendl. Ivan was an amazing talent who simply worked harder to perfect his skill than any player had before him. He demanded perfection in his game and his equipment. We developed racquets specifically made for him, working to maximize and enhance his strengths.
The data and information that we've assembled over the past 30 + years, through our work with hundreds and hundreds of the top professional tennis players has been used to create our latest creation, The Bosworth Tennis Tour 96 Tennis Racquet.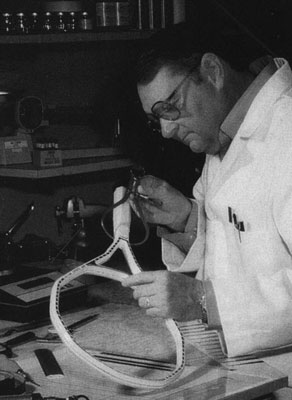 This racquet, a culmination of the best and most effective technology, is now available to amateur players. But it's not just the racquet, it's how we customize it for you with a single goal in mind – to help make you a better tennis player.
We have developed a unique racquet that's customized just for you. Our personalized performance, 10-point fitting system is designed to maximize your game based on your playing style, characteristics, feel and competitive nature - just like we do for our top professionals.
Through our network of Bosworth Certified Racquet Technicians, Dealers, Professionals and Fitting Centers, I urge you to see what a truly customized racquet can do for your game today.
- Jay Bosworth
Chief Executive
Bosworth Tennis

- building better players, one racquet at a time.